The shift from hamburgers to seafood is the bet of Steve Burggraf, Big Fernand's founder in 2012 who was an ally of former Mondelez France president Mathias Dosn. They are taking over the €46m turnover Nautilus group (canned crab and organic salmon specialist).
Are your two profiles different and complementary?
Steve Burggraf: The company took root in me, I was interested in it when I was very young, I followed the stock market as a child, and then I created many companies. But the company is made up of people and their experience. With Mathias, it's a story of experiences and intersecting destinies.
Mathias Dosne: I am a provincial who left my native Provence to work in the Place de Rungy selling fruits and vegetables before a headhunting firm offered me to join Coca Cola. It was a big gap for me, going from a small market to a large, well-structured group. I stayed there for 15 years, until the position of sales manager, which I went to the general management of Mondelez International. It allowed me to touch many professions, and also to see what it is better not to do. Today I will be able to apply what I learned.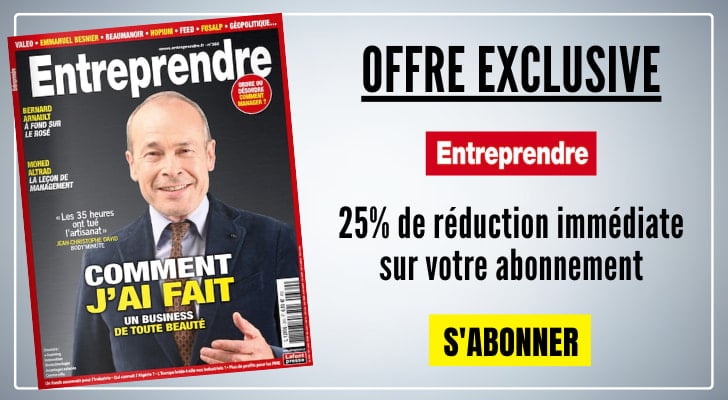 Why the attraction to the food sector?
SB: My first business, Compagnons du Terroir, was in this field, it is a continuation of my educational journey, I cooked very early and from an early age, I have an appetite for the product, I defined it, success is based on love for the product, I feel at ease in this universe I want to do good things, it's not that difficult, but not that often. Development is done by and for products.
MD: As for me, starting with Rungi, in the center of food, in the simplest and noblest part, I loved those fruits and vegetables, fish, meat, foods with a very short shelf life. , where marketing comes second. It is a basic necessity that allows us to innovate, to learn, to move towards the best.
How did you go about taking over Nautilus?
MD: We went to business school together, then met again two years ago over lunch and discussed our project aspirations. We shook hands, a very human pact based on great mutual respect. When initiatives are simple, then you can move very quickly, because obviously the business does not wait. Leaving the position of president of Mondelez France, a group with 1.8 billion euros, for a real project, and with Steve, is extremely energizing. The amount of turnover is not a subject. Nautilus represents a real challenge, the company realizes 47 million euros, we want to increase it to 100 million in 2028. That tells you the size of that ambition. We own our strategy, our vision, we will put all our energy into it, manage teams, attract talent.
SB: I wanted to rewrite a slightly serious story. With Nautilus, it's a moment of opportunity between my journey and the company. It was necessary to find a product to be proud of, a brand to enter the market of the future. Because it is an alternative to meat and tomorrow's food. This is a market in which we feel comfortable. Our motivation is completely related to the product.
Did it go by fast enough?
MD: It took 2 years and our first goal was not achieved. This "failure" allowed us to share our reaction, our loyalty in a more difficult period, because we never gave up.
SB: We both work and it takes 12 to 18 months to learn the scale of a company and take action. "Think like a strategist, act like a primary", usually too many businesses by the numbers, here we know the men who make up society.
In terms of funding, fundraising doesn't necessarily have your affection?
SB: I could talk about this for an hour! There's a common problem among young entrepreneurs for whom fundraising is an end in itself and just a small step, which also does them a disservice because sticking to a budget and being challenged is fundamental. Usually these fees are carried out by financiers who put entrepreneurs to sleep who do not belong to this category themselves. This lark mirror phenomenon seems to me to be slowing down.
With Nautilus, is the product at the heart of your ambition?
MD: We wanted to find an alternative to meat. The seafood market is dynamic, growing by 3-5%. However, crab, rich in omega-3 nutrients and vitamin B, is a modest €20 million segment in France that is interesting to democratize. Nautilus is a legitimate brand here. We are also on
smoked salmon, under the Herens brand, a market of 700 million euros, +5, +10% per year. We will not be another actor, we choose very high quality, more than half of our volumes are already organic, red or wild, our goal is to reach 90%. Exports will also be a growth vector, especially in the Middle East.
SB: There is no problem with crab overfishing, the female lays 2 million eggs per year, the activity does not harm the planet. We have planned many innovations regarding the products of different brands. We are not going to move away from the domestic market (96% of the turnover in mass distribution), but there are niches worth exploring in high-end, in RHD (food-out) and in organic chains. We have leverage. In Nautilus' DNA is the ability to source products, which is an important thing because access to quality raw materials is the challenge of tomorrow and one of Nautilus' strengths. We're also going to grow the talent around us, even if the product will remain the driving force behind the transformation. New assortments, new ways to consume crab, product innovation and improvement, a very large-scale renovation that begins immediately.
And external growth?
SB: Why not ? We will be very careful, Nautilus can become the first stone in the construction of an industrial food group. From the end of June, we will behave as manufacturers in the business sense of the term.
MD: We have many vacancies and are looking for good team members. The world of small and medium-sized businesses attracts more and more young talents, and our project is very attractive for candidates. It's important to both of us to give meaning, to think about the impact on the environment, to be about seafood. We want to make a concrete contribution to cleaning the oceans.