Off the coast of Alaska, the Bering Sea is home to a population of iconic crabs: snow crabs, which, as their name suggests, thrive in cold waters.
But rising temperatures in recent years are likely to have caused their decline, prompting authorities to take an unprecedented decision: canceling this year's fishing season entirely for this species, which is nonetheless an important resource.
According to the latest census conducted this summer, the estimated number of snow crabs in 2022 has fallen to 1.9 billion from 11.7 billion in 2018. This is a reduction of about 85%.
⋙ Washington state sounds the alarm against the invasion of green crabs
In the face of this disaster, climate change is the prime suspect, Erin Fedeva, a biologist who has worked for years to census these crabs in Alaska, told AFP on Tuesday.
In 2018 and 2019, heat waves greatly increased the water temperature at depth. "The cold-water habitat that they need was almost non-existent at the time, suggesting that temperature is indeed the main cause" of the decline, the expert said. "All of this actually points to climate change."
Until now, these round, orange-shelled crabs (which can reach up to 15 centimeters in adult males) have been a reliable resource for coastal communities.
⋙ In Makatea, following the tracks of the kaveu, the "giant coconut crab"
"Times are tough and unprecedented for Alaska's iconic crab fishery," Jamie Goen of the trade organization Alaska Bering Sea Crabbers said in a post. "Second and third generations of crabbing families will be pushed out of the business."
In a statement, the Alaska Department of Fisheries said it understands "this closure will have a significant impact on fishermen, the industry and the communities that depend on it." But he emphasized the "necessity of long-term preservation" of the species.
– 2°C more –
The snow crab population has been in decline for decades, despite several rebounds, including the most recent in 2018, which raised hopes. But since 2019, "everything has changed dramatically, which surprised everyone," said Erin Fedeva.
During the 2021 census, "stations that normally catch thousands of snow crabs had only a few hundred. To me, that was a sign that something was seriously wrong," she said.
Another clue: In recent years, crabs have been seen in areas farther north than usual, toward cooler waters.
⋙ Crab shells to make renewable batteries?
Especially young crabs need a temperature below 2°C, which allows them to escape from predators (some fish, seals, etc.).
In the zone of their evolution in 2017, the water temperature at depth was 1.5°C. But in 2018, it jumped to 3.5°C, explained Erin Fedeva.
Two hypotheses are put forward to explain the fatal consequences of this heat. First, the disease affecting these crabs could have contributed in this way.
Second, these temperatures may have caused the crabs to expend more energy, thus requiring more food. But "they were all packed together" in several places with colder water and therefore "couldn't find enough food", Ms Fedeva said.
⋙ A distillery turns crabs into whiskey to slow down their reproduction
Overfishing is not the main culprit, she said, as there is a decline in crabs of all sizes when only the largest are caught. "It really speaks to the impact of an environmental factor," she said.
Despite everything, the expert wants to remain optimistic. Water temperatures are now back to close to normal and new juvenile crabs were discovered during the last census. But before they can be caught, it will take four to five years of growth.
Read also:
Bluefin Tuna: The Fish That Was Worth Millions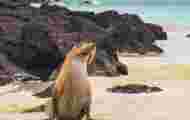 Here's Why the Galapagos Islands Are Resisting Global Warming (For Now)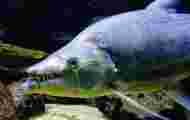 Goliath tiger fish, a terrible predator