In his book "Agent Josephine, American Beauty, French Hero, British Spy" (Agent Josephine, American Beauty, French Hero, British Spy), which has just been published in the United States, Damien Lewis, an American historian, is fascinated and intrigued by the Shadow of a cult star 20s, Josephine Baker looks back on hidden aspects of her life. Because she never talked about it… However, she was awarded the Chevalier of the Legion of Honor, the Military Cross 1939-1945 with Palm, the Free French Volunteer Merit Medal and the French War Commemorative Medal 1939-1945. In 1946, when presenting her with the Medal of Resistance, General de Gaulle honored her with the following words: "Dear Miss Josephine Baker, With full knowledge of the facts and from the bottom of my heart, I send you my sincere congratulations that you have been awarded the high honor of the French Resistance. Since his underground activities were always classified, the author played the role of a detective, trying to reveal its nature. He turned to a very large amount of new historical documents and painstaking research, including previously undisclosed letters and diaries, to reveal this aspect of Josephine Baker. Her goal was to explain why she fully deserves the place she occupies in the French Pantheon from November 30, 2021. She is the sixth woman to receive this honor.
Josephine Baker and her famous banana belt in 1927. Lucien Valeri/Creative Commons
The highest paid artist in Europe
In the first half of the 20th century, Josephine Baker was one of the most famous women in the world. Freda Josephine McDonald was born on June 3, 1906 in St. Louis, Missouri. She became a star of the Paris scene in the 1920s, leaving her country of origin. In addition to her talent, generosity, kindness and judgment, the stories of her walking the Champs Elysees with her pet (and sometimes colleague), a cheetah named Chiquita, made her a legend. In "Agent Josephine," the prolific historian goes further beyond the sensationalist image to claim that Baker was a spy for the British. Before World War II, Josephine Baker was a music hall diva, known for her exotic songs and dances, beauty and sensuality. She was the highest paid artist in Europe. When the Nazis took over her adopted city of Paris, she was kicked off the stage along with all the "negroes and Jews". However, instead of returning to America, she vows to stay and fight Nazi evil in the country that has welcomed her so well. According to Lewis, this star, who covers her nudity with a banana belt and dances to crazy rhythms, must have signed up as a nurse in the French paratroopers unit.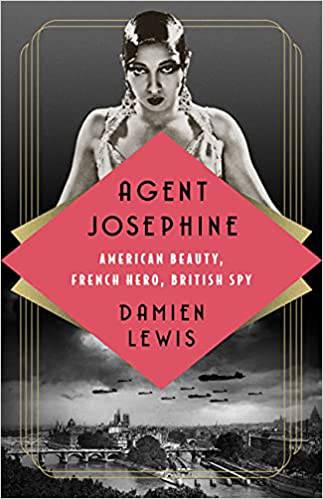 A book by Damien Lewis, just out in the US, reveals the hidden sides of the resilient Baker. Photo by DR
"I have two loves… My country and Paris"
This commitment, according to him, was actually a cover for cooperation with the Resistance. He also writes that Baker confided to his biographer Marcel Sauvage "very little about her military activities, which she consciously carried out in the name of the Allies. She rarely, if ever, spoke or wrote in detail about her involvement in the war and died in 1975, taking many of her secrets to the grave. Baker was undoubtedly a member of the Resistance, and at times, very likely, a special agent as well." In 1941, in particular, she gathered a large number of people at her castle of Milandes in the Dordogne to listen to an appeal sent from London by General de Gaulle. Then, between 1941 and 1944, she moved to Morocco to support the Allied forces, embarking on a long jeep tour from Marrakesh to Cairo and then to the Middle East, from Beirut to Damascus, gathering all the information she could with official persons she met. In the same work, the author makes colorful characters gravitate around him: Captain Maurice-Leonard Abtey, who went to work in kayaks on the Seine, Father Dillard, a castellan who became a Jesuit and resisted, and Hans Müssig, a secret spy a bit like James Bond. Finally, agent Josephine Baker even managed to seduce big names in the luxury industry. Christian Dior and Balmain liked to dress her. The great jeweler Cartier put up for sale a replica of a bracelet she ordered from him for one of her lovers, on which she engraved the four letters PFQA (Stronger Love). However, on both sides of the Atlantic, Josephine Baker was always faithful to the two great loves that she celebrated throughout her life in her unforgettable song J'ai deux amours: "J'ai deux amours/Mon pays and Paris/Always by them/My heart is delighted /Manhattan is beautiful/But why deny it/Paris fascinates me. »
In his book "Agent Josephine, American Beauty, French Hero, British Spy" (Agent Josephine, American Beauty, French Hero, British Spy), which has just been published in the United States, Damien Lewis, an American historian, admired and intrigued by the shadow of a cult star 20s, Josephine Baker looks back at the hidden aspects of her…