There are many different constructors in the LEGO catalog. But there is one that has a very strong connection to video games, a replica of the famous Atari 2600. We built it, and we'll tell you if it's worth it.
The name of this console may not speak to everyone. The Atari Video Computer System or Atari 2600 is a console that comes from an era full of stories and memories for some and some, the late 70s and early 80s.
Buy an Atari 2600 for €249 at LEGO
Resume
Atari 2600 and LEGO: two historical brands

Atari 2600 by LEGO: Nostalgia bricks and a build full of sensations

LEGO Atari 2600: 7 hours of building, 7 hours of fun

A design built for maximum immersion

Atari 2600 by LEGO: a visual slap in the face of the 80s
Atari 2600 and LEGO: two historical brands
Arriving in France in September 1981, this home console belongs to the second generation and marks a turning point in the industry.
Indeed, with the Atari 2600, it's a real vindication for the video game sector, which is still in its infancy. And the Atari console went down in history with both its games and its imagination.
You can say that LEGO also originates from this time. In fact, the Danish toy factory has been around since 1932. But it was in the 70s and 80s that the brand saw a decisive turning point.
Indeed, this is when LEGO manages to land in many a toy box. Since then, the success has not faded, and LEGO has achieved an incredible result: intergenerational distribution.
This is reflected directly in its catalog with the presence of an "Adults Welcome" range.
The latter contains the most complex building sets, the largest, but also the ones that require the most motivation.
If you mean large models like the Millennium Falcon, the Colosseum in Rome or the huge Imperial Star Destroyer, which is over one meter long, know that they are part of this famous Adults Welcome series.
The Atari 2600 is part of this collection, and it makes sense when you see the history of the console and the complexity of this build set.
Released in August 2022, this set has a rich history and what it offers in terms of experience and visual reproduction.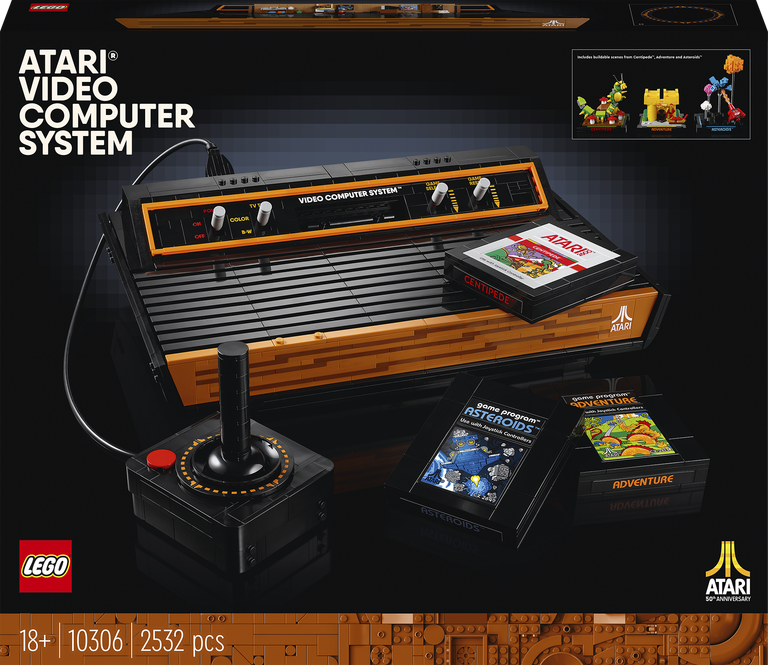 Atari 2600 by LEGO: Nostalgia bricks and a build full of sensations
This is one of the most important parts when you get a LEGO set. You can even say that the last one is unique. Because even assembled and disassembled, you no longer feel the same when you have to restore it.
And with the Atari 2600, we can say that LEGO has pushed the concept to the limit, as we can truly speak of a unique experience.
LEGO Atari 2600: 7 hours of building, 7 hours of fun
Building this Atari 2600 isn't difficult or even painful, it's gradual and never repetitive.
First, it starts with the management of different parts, which are divided into no less than 18 different packages.

To make the experience as optimal as possible, and above all to avoid pulling your hair out looking for a very small part, we recommend that you follow the instructions for use and open the package only when required in the instructions.
It may seem strange and some people prefer to empty everything and then sort, but in reality, it is much more exciting to start building this console by following what is indicated in the manual.
There is a very simple explanation for this: you will not necessarily know what you are going to do. And it's great to find LEGO unfolding in your hands.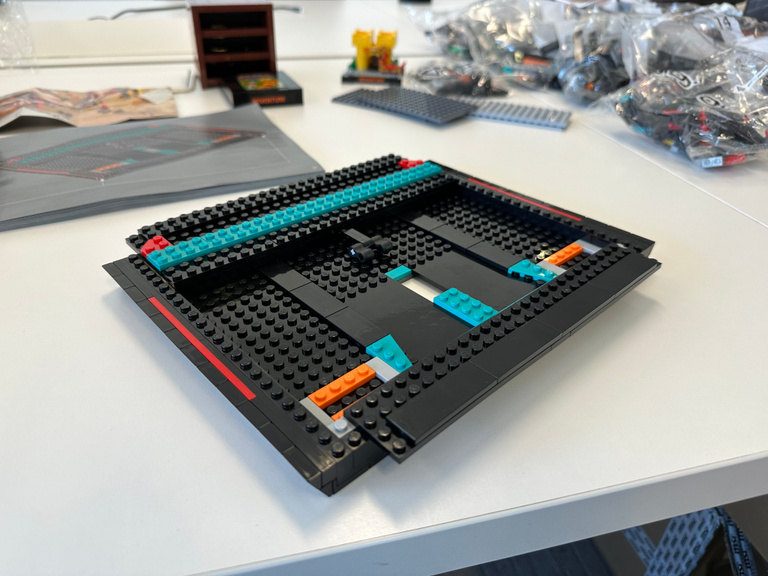 That's the great strength of this set: always leave surprises, and eventually go from wonder to wonder as the construction takes shape.
And make no mistake, while this isn't the biggest building set, it still takes a bit of time to put together.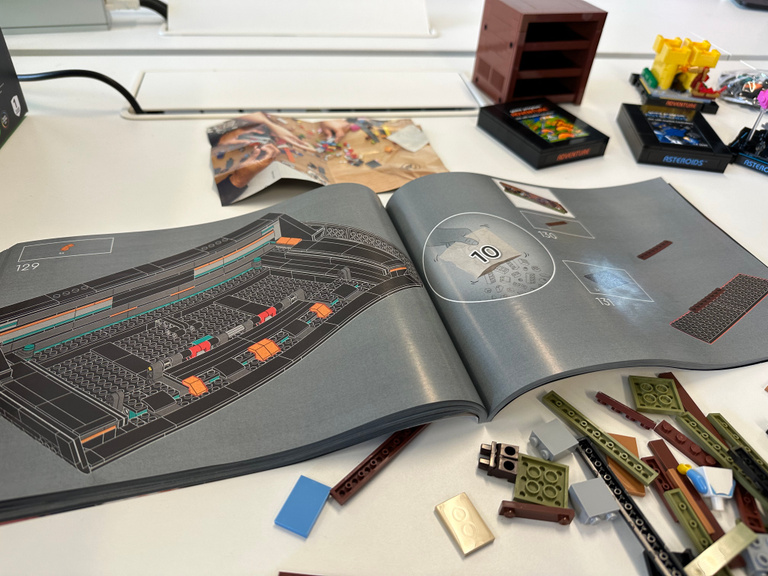 A simple tip: take your time. Get in the mood with a soundtrack that breathes the 80s. This is usually the type of construction that will keep you busy over the weekend. But you will really be able to get away from your phone, your worries and cares.
A design built for maximum immersion
Another strength of this LEGO is that the construction is not linear. And this is in the sense that you will not necessarily deal only with this and that part of the set.
So, compared to the Atari 2600, don't be surprised if you start with the cartridge, then run the console base, and then go back to the console.
In fact, this mode is designed specifically to keep you enjoying your LEGO creations.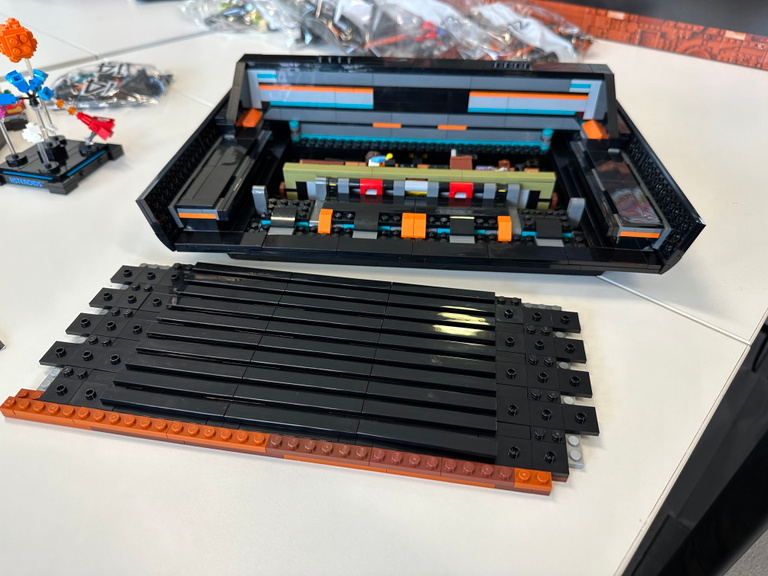 This means there is little, if any, redundancy. That way, when you go to attack the console face that occupies the wood veneer pattern, the instructions are reversed so that the construction pattern doesn't repeat itself.
With this system, your mind stays focused and you can continue to chain brick by brick without getting tired.
In short, the editing aspect is a real success, creating an Atari 2600 is exciting and especially enjoyable.
Atari 2600 by LEGO: a visual slap in the face of the 80s
When the Atari 2600 is built with various accessories and cartridges, we will be able to face the facts. This is a model that fulfills all its promises.
Despite the presence of LEGO "plastic", it does not detract from the charm of this model, which has the chic of wearing an Atari 2600 model "S" dress.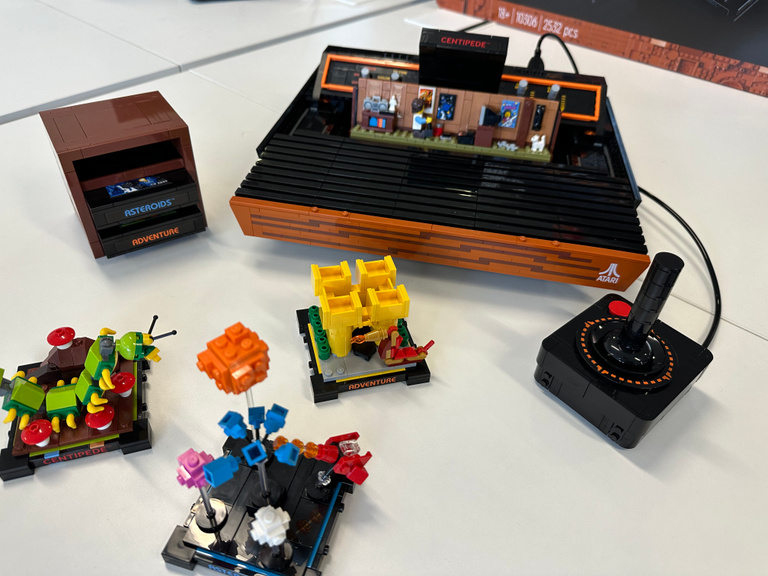 It should be noted that the Atari 2600 designed by LEGO reflects the actual size. That way, you will have a true 1:1 scale copy that can fit in your living room.
The console as such displays the original buttons and joysticks, which even have resistance. There is also an option to insert a cartridge as if you were playing a game.
But one of the highlights is that the hood slides open to reveal a diorama of the player in a true 80s mini scene.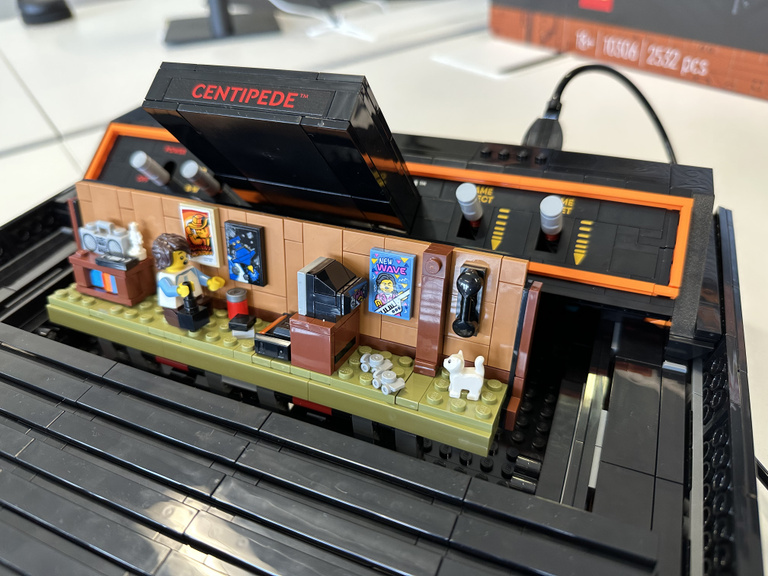 Posters, wall-mounted telephones, electronic beam televisions are all here to immerse you in this era!
In addition, each of the offered cartridges has its place on a separate shelf. Each has its own little diorama representing the gameplay of the game. Thus, we find a ship that explodes celestial bodies with asteroids, a dragon that guards a fortified tower in Adventures, and a huge caterpillar for Centipede.
It's all the little things that make anyone who grew up with this console look back fondly on that period. And others will enjoy building this LEGO, which emits the sweet smell of nostalgia.
Buy an Atari 2600 for €249 at LEGO
Conclusion

Strengths
Nice final image
Interactive dioramas and details
Immersive editing
Atari 2600 made in LEGO is a real success! Very pleasant to build, full of details and above all with a great end result, this is a builder that received the maximum number of points in our test. However, we regret that a small part was missing from our set (it is easily obtained from Lego service). But this does not detract from the gaming experience, which was particularly pleasant and the final rendering literally makes the eyes sparkle.
Buy an Atari 2600 for €249 at LEGO
---
This page contains affiliate links to some of the products that JV has selected for you. Each purchase you make by clicking on one of these links will not cost you more, but the e-merchant will pay us a commission.
Learn more.