Reproduction of lights is the first novel by the Spaniard Raquel Taranilla: a journey through time and space, says from the garden of a house in Barcelona. Oulip's fury, in which the fates of dozens of characters, real or imagined, intersect.
One day, Quiro comes to Beatrice Silva's house and life. He is a film director and is working on a project on how Friedrich Wilhelm Murnau prepared and made Taboo, his last film (released in 1931 and more or less with Robert Flaherty). She is a sociologist, academician (at the University of Barcelona), is interested in tourism, believes that imitation is a powerful mechanism on which capitalism is based, and does not rejoice at the unexpected arrival of this malefactor. But very soon Quiros and his project fascinate her. She falls in love with him (Quiros? The project? Murnau? It is unclear). And when Quiro goes in search of Taboo, Beatrice, without leaving home in Barcelona, ​​follows its course and tells us the story of this modern odyssey. It leads us from one end of the world to the other and leads us through the ages.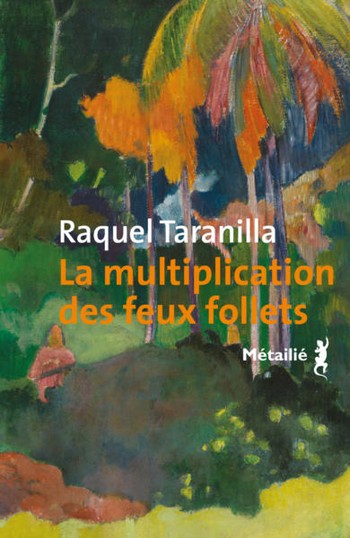 Travel and storytelling that are not linear and do not follow a straight path. Dr. Beatrice Silva – let's not forget that she is a "Catalan academic foaming agent" – moves like a crab, more like a knight on a chessboard: a sentence forward, two-three-four sideways. Driven by this encyclopedic drive, which sometimes enlivens social science researchers, it analyzes, analyzes, takes a step back, and puts it into perspective. She multiplies strange links and more or less deviates from the topic, explores in the complex branches of life those who cross the path of Quiro and those who crossed the path of Murnau. And even more, he also talks about the lives of those who cross the lives of those who cross the lives of those who… Difficult. Dizziness.
Dizziness is further emphasized by the storytelling technique. First, the very structure of sentences, which branch into a number of interrelated sentences. A river of words with long mighty meanders. Psychological, sociological, historical, ethical considerations… And, that simplifies nothing, dozens of notes. This is also one of the sweetest aspects of the novel. Beatrice compares herself. She wants to know if she has directed her life in the right direction. So she tries to find out if what she did at the age of 32 – her age – is worthy of what great figures, such famous and different as George Steiner (p. 152) and Walt Disney, p. 108). ), Greta Garbo (p. 64), Hitler (p. 88) and Pasolini (p. 139)! This is the second novel in the novel. Huge, delusions, dizziness. What a work, what an imagination, what a culture, what a sense of literature and stories, to be able to find all these characters, to establish ties with Murnau and his film. No wonder it took 5 years for Raquel Taranilla, the author, to reach the end!
Because we also need to talk about the author! Obviously, Beatrice did not write this novel. Reproduction will-o'-the-wisps is the author's first novel Raquel Taranilla, 32 years old (also at the time of writing), also a university (in Madrid, not Barcelona). Thus, this novel is the work of an academician who tells us the story of the academician himself, who tells the story of a director who creates a project the way another director made his film! And this way of writing, aimed at some encyclopedic completeness, these remarks about Murnau and about the people who met Murnau, these footnotes – this is more than an element of the story. Raquel Taranilla uses it to ridicule university whims, this tendency to multiply references (useless? displaced?) that seem to have no function other than to spread its culture. In fact, Multiplying Lights is also a critique of the university and academic research, a "parody of academic writing," according to the author. Undoubtedly, the Ulip mise-en-abîme.
But is this a novel of incredible wealth, the reading of which mesmerizes, fascinates, endures? Or the messy and messy chaos that is tiring? Beatrice's (and therefore Raquel's) question about Lawrence Stern's work (p. 225). The question, obviously, concerns "Multiplication of lights". Neither Beatis in the novel Raquel Taranilla don't react to it. Therefore, we will not answer either. Maybe it doesn't make sense. There is still something exciting and enriching in the chaos.

Alain Marciano
Reproduction will
Roman Fr. Raquel Taranilla
Translated from Spanish by Francois Godry)
Publisher: Métailié
304 pages, 22 euros
Publication: April 8, 2022