Remember the DMC Delorean car "Back to the Future"! Then imagine yourself for a few minutes, closing your eyes, your childhood … Toddler, eyes fixed on the screen of the electron-beam TV of our 80's, we watched with wide eyes, these legendary fights between Sean Kelly, Fons de Wolf, Acacio Da Silva, Bruno Cornelier and the last winner of the French Tour de France: Bernard Ino!
Now open your eyes and tell yourself that these champions will still be fighting each other … June 4 and 5, 2022 in Calorgen, Brittany. Yes, in 2022, more than forty years later! How is this possible? From the will of passionate volunteers and, above all, armed with a big heart, as what gives you this breath in the most difficult moments, which revives Hope. This association is also called Souffles d'Espoir contre le cancer and fights the impossible, which is called: cancer.
To help them in this incredible struggle, the "Immortals" come to their aid. "Immortals" are those who will forever remain in the Great Book of Cycling, even in the next century.
So, as with DMC Delorean, we are going to join this crowd, our ass rests on the passenger seat of old cars that are also involved in this time travel, just to change the future a little for a beautiful and noble Reason: to help knock out this damn a crab that peels off many of ours.
As Irish, we are still a bit of an editor, we asked "King Kelly (Sean Kelly)" why he left his green Erin to join his Celtic cousin Bernard Ino, who is called "Badger" in Ireland.
When Bernard invites you to join him in a noble cause, you come, do not hesitate
Be Celtic: Sean Kelly, why did you accept Bernard Ino's invitation to the Tour de Rance on June 4 and 5 without hesitation?
Sean Kelly: "Hey, there are three reasons. The first for "Badger". When Bernard invites you to come, you have come, you do not ask yourself any questions. After all, it's Bernard, it's Badger! The second is for the case, souffle d'Espoar against cancer, sponsored by Bernard. This damn cancer affects every family. We have all lost someone with this crab, we must do everything we can at our level, no matter how small. The Eugene Marquis Center needs funding in this fight, so we are coming to their aid, we can't talk about that either.
Finally, for friends. It's been a long time since I last saw Bernard. We've had this damn covid for two years and I'm commenting for Eurosport International, so it's not easy to see each other again at the Tour de France. Too many people, crawling everywhere. There we will meet again at the "bonne franquette", as you say in France. There will be Fons (De Wolf), Acacio (Da Silva), Bruno (Cornell) and many others… Damn, it doesn't make us younger (laughs).
It was another Bernard, I call him Bernard Laloux, who sent me a message a year ago. But with all this shit last year, it was hard for me to leave Ireland. That's after the Giro, and I'm free. I am happy to return to Brittany and see Bernard and everyone else again. "
Brittany is like Ireland
Brittany, what memories do you have?
"I was not disoriented by the climate. It's a bit like Ireland. It's raining, then the sun is shining, and it's raining again with a little cold wind, less than 4 seasons in one day, like in Ireland (laughs). Seriously, Brittany is as beautiful as Ireland. I have very good memories of the Tour de France in Brittany. Sacred steps. I remember my DS telling me, "Only the best come out of the rain to look for the sun, the best then shine in the sun." I was marked by what he told me then. So I liked the rain, the wind during the fight and the sun on arrival (laughs). "
Without Jean de Gribaldi, I would never have become who I am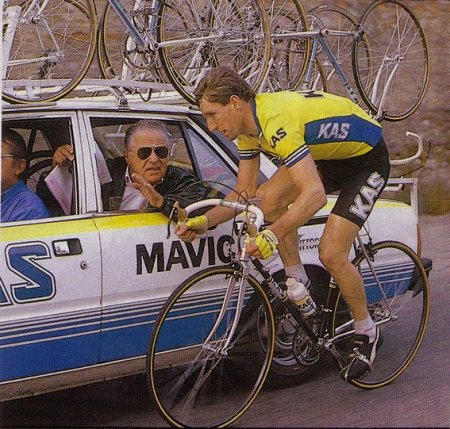 France, your arrival in Besançon in 1977, you are an Irishman whom no one knew but one: Jeanne de Gribaldi
"Yes, I remember it very well. In 1976, when I was plowing our field in Kurragduf, a Frenchman came to the family farm. He offered me to become a professional in Flanders, I was 20 years old. This Frenchman's name was Jean de Gribaldi, and he changed my life. Without him, I would never be who I am. I owe him a lot.
In 77, I landed in Besançon, signed AC Bisontine for amateurs and Flandria for professionals. I always watch what this AC Bisontine training club does. They are always champions among juniors, French, Irish, but we don't often talk about them in the media, I think it's a shame because they work well with young people … It reminds me of so many things at that time in Besançon. The professional team could be called Flandria, Splendor, KAS, Skill Sem Kas Miko, we didn't care, we were with Jean De Gribaldi. We would follow him everywhere, we were loyal to him, because he was much more than a manager, he was a great man. I miss him… "
The most important are these moments spent with team members, staff, sports and especially human adventures.
You have won 190 professional victories, 7 Nice Paris, 26 stages of the Grand Tour, 2 Paris Roubaix, 2 Milan San Remo, 3 Lombardy, Vuelta and many others. What is your fondest memory?
"All the victories are wonderful and remain good memories. But the most important thing is these moments spent with team members, staff, sports and, above all, human adventures. I liked this team spirit, which can take everyone very far. I read one of your articles about Joel Pelier, my former KAS teammate. At the time, a child with a huge heart that worked only on passion, and he did not change when I read these words that he writes on Be Celt. He is still a passionate, good guy. He is right when he says that a real team is created by a team, we go to war together.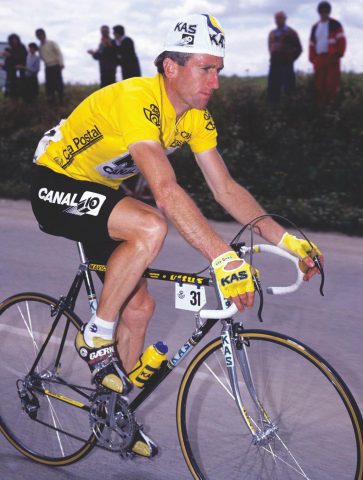 I was a leader at the time, yes, but when I saw these guys working hard to lead me to victory, I had to return the favor. It's a team, it's a bike ride! I remember very well this stage with Jojo in Nice, Paris. He started with a pro. We were both separated. I could see that he still had a little under the pedal, but he thought only of protecting me. So I approached him and told him; "Come on, Joel, she's for you. I'm behind to protect you. " Joel attacks and goes alone, he scores the stage, puts on the leader's T-shirt as a bonus. I was very happy, just like him. A leader needs to know how to put himself on the board for his teammates as well as for the team. This was the spirit of Jean de Gribaldi. Yes, wonderful memories. We tried again next year with Rene Bittinger, but it didn't work, others understood how we work, I think. We all traveled for the same goal: victory "
Found my KAS-era Vitus bike
On the Tour de Rance you will ride a Vitus bike of the KAS era. How did you find this rare item?
"So, this is a wonderful story of passion again. I already drive only on VITUS. Now it's an Irish brand, and I'm its ambassador. You will never see me on another brand. When I told Christophe Lefort and Mikael Ino that I only drive Vitus, I thought they would take my current VITUS. But no! They contacted a collector named Gwen Leguen, who owns one of my KAS-era bicycles. And he lends it to me this weekend. I was speechless. I haven't ridden it in a long time. What a joy to find him!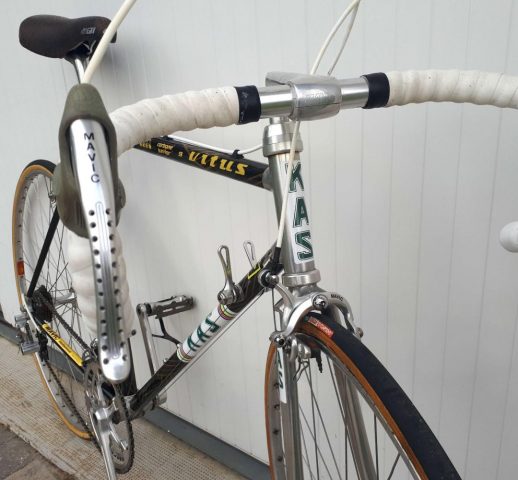 It will be a great weekend with Bernard, Fonso, Acacio and everyone else. And besides, we will be close to this cause, which is close to our hearts, this heart full of hope, and we will also give it a little of our breath. "
REGISTRATION FOR TOUR DE RANCE 2022: click "HERE"